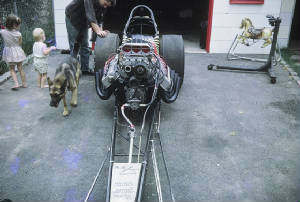 George, Nancy & Barbara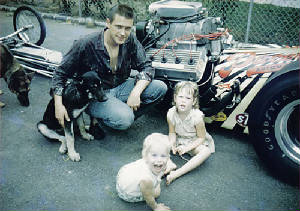 ... Candy & Heidi too. (1968,9 ish)
My childhood recollections included huge race cars - dragsters, roadsters, huge trailers, dune buggies - in our driveway, like it was a normal event. My sisters and I - and our dog, Heidi - would mull around as Dad and my Uncle George puttered. I didn't realize the magnitude of what I was witnessing. Another,
'isn't that always the way'
moment. These two friends on a mission to kick ass... and many times succeeding. Who knew they were creating history? Who knew that someday their names and the word "
Legends
" would be in the same sentence!?! They were just doing what they loved to do. You can't take a '
project
'
that
far unless you are passionate about it ...
to your core.

~ Nancy