Charlie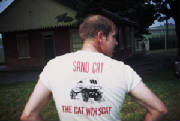 I remember the Dune Buggy vividly. We had a lot of fun with that car!
Before Daly Blvd. was made - the street at the end of Lawson Blvd. - Dad took us for rides on the sand dunes.
He was a mad man. It could have been an airplane for all I knew. The engine roared as the Buggy raced up a sandy hill, as we crested the top we left the ground for what felt like forever. Airborne, I held the rails tighter and screamed with glee.
My mother stood watching, covering her mouth in fright. She didn't like to participate in these 'adventure rides.' Her father was killed in a horrific car accident when she was only 17. Clearly life altering. Thankfully, my Mom and the rest of her family survived... however the impact of that day left its mark. No crazy car rides for Mom!
| | | |
| --- | --- | --- |
| | | |
I wish I would have understood that more clearly as a child. I spent a lot of time wondering why Mom never joined us. It was fun to have the Dune Buggy at home, like part of the family... many days merely our ride to school. We were the talk of our classmates. Then to go to the race track and watch our 'family member' race on the tracks.... How awesome! Oddly natural for our household.
~ Nancy